When we bought our house we knew right away that we would eventually need to update the kitchen. Not only for resale purposes but for our own sanity. Our home is a 1970s home, so we have this not so pretty floral wallpaper with brass, laminate and old school appliances. The original owners use to have dark wood cabinets and eventually painted them white. Smart on their part! About 2 years ago our dishwasher was causing us some problems so we began the updating our appliances adventure. All our appliances are white and we decided we wanted to get stainless steel. So we replaced our dishwasher with a stainless steel one. Then about a year ago our refrigerator went out and we replaced that with an updated stainless steel one. Within the past few months we decided to take the plunge and finish up the kitchen.
Checklist:
Repaint cabinets
Change hardware
Take down wallpaper and paint walls/or paint over wallpaper
Update sink
Update microwave
Update stove top
Update oven
Update venthood
New lights
Get rid of fan in eat-in area
Get rid of laminate
New countertops
Backsplash
Our good friend Mike who is knowledgeable in the kitchen remodeling came over to help Nick and away they went.
First task was taking down the old vent hood and removing the upper cabinets around the venthood. Then we removed the wall to open up the kitchen more.
Since our current oven was too small for a regular size cooking pan we took the oven out of the built in wall cabinets and cut out space in our semi-island where the current cooktop is for an cooktop oven range. Then we took a break for awhile while we purchases a new cooktop oven range and a venthood. Nick had to do some electrical work and rewire. We hooked up our cooktop oven range!
Last weekend we finally put the venthood up which was probably the hardest task with the kitchen remodel.
Nick and I spent one evening trying to decide what we wanted to do for the countertops. I thought we should go neutral because we want to be able to sell the house to anybody. After looking at all our options we decided to go with a quartz countertop. The price was right, it does not have to be sealed or resealed and it is just the smart way to go with kids and cooking. We scheduled our estimator to come out to see how much we needed and we waited. Well Nick started to pick my brain and I guess he really does know what I like, because he popped a thought into my head on a different countertop idea that I would normally go with and is becoming popular and I was like SOLD! So back to Lowes we went and changed our countertops - still quartz, but different color.
A new estimator came out and now we are just waiting for our countertops to be installed. Oh and the cool thing is we got a free sink with our countertops. So we just had to purchase a faucet and the drains - which we did last weekend!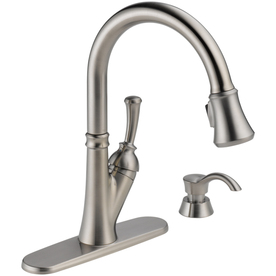 So here is our checklist now:
Repaint cabinets
Change hardware
Take down wallpaper and paint walls/or paint over wallpaper
Update sink -
check
Update microwave
Update stove top -
check
Update oven -
check
Update venthood -
check
New lights
Get rid of fan in eat-in area
Get rid of laminate -
check
New countertops -
check
Backsplash
So we are about halfway done! Once the countertops are installed we will go pick out backsplash and get that done. Probably buy a new microwave and fix cabinets that need fixing. Then I will start painting away. Lights will probably be the last thing to happen.
So this is what we are looking at our cabinets in our kitchen to look like. White on top and turquoise/aqua on bottom.
I will update more as we progress!